Find out what issues are affecting your community and other communities. Click on organizations below or scroll down for information.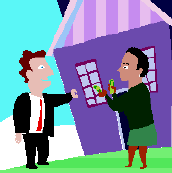 Are you tired of real estate agents calling you on the phone and ringing your doorbell to ask if you want to sell your home? You can stop them by filing a New York State Cease and Desist Zone Registration form. This will place your house on a list that forbids real estate brokers from contacting you. You must be the homeowner. Complete and submit the form now by clicking Cease and Desist.


Do advertisers call you at home at the worst possible times trying to sell you stuff you don't want? Put a stop to their annoying calls by registering your home phone with the National Do Not Call Registry. Click www.donotcall.gov

WHAT TO DO WHEN STOPPED BY THE POLICE
A Message From Aaron Jackson 2nd Vice Chair Grand Council of Guardians
The Police have a difficult job, which comes with tremendous responsibility. We all have rights and responsibilities, especially in our relationship with the police. Everyone, including the police and minors have a right to courteous and respectful treatment. However if you feel your rights have been violated, Do Not Argue At The Scene and try to correct the situation there. Contact the Civilian Complaint Review Board and or discuss the matter with an attorney. To view or download brochure "What To Do When Stopped By Police" Requires Adobe Acrobat Reader

Paying too much for prescription drugs? Comparison shopping can save you significant amounts of money. Go to the State Attorney General's Prescription Drug Price Website and compare prices of commonly prescribed prescription drugs at certain pharmacies in various counties across the state. In a recent statewide survey, it was found that the retail price of Lamisil (dosage: 250mg; quantity: 30 tabs), a popular nail fungus drug, was $250.19 at the lowest surveyed price and $372.97 at the highest, a significant difference of nearly $123. Click www.nyagrx.org

Want to find out what happened to that illegal conversion complaint you filed? You can search for general information on a property in the city including recorded complaints, violations, what actions were taken, applications, inspections and more. Just click the NYC BUILDINGS logo at left. To file a new complaint call 311.

Want to be informed of updates and site related information on Townsunited™? Click

Shop conveniently from home for anything including books, music, electronics, tools & hardware, lawn & patio, and kitchenware. Type in what your looking for in keywords and go!
©2000 - 2006 Townsunited All Rights Reserved.